CAMISETA - T-SHIRT SAVOY RECORD LABEL – TALLAS/SIZES S-M-L-XL
Comentarios del cliente
DISPONIBLES LAS CAMISETAS DE SAVOY RECORD LABEL

LUCE ESTE AÑO ESTA CAMISETA EXCLUSIVA DEL FANTÁSTICO SELLO SAVOY, dedicado durante más de dos décadas a promover el Rhythm and Blues, Rock and Roll, incluso jazz. Donde grabaron temazos gente como Big Maybelle, Nappy Brown, Joe Turner, Dizzy Gillespie, Art Tatum o Charlie Parker entre otros gigantes.

Tallas disponibles:
CHICO: S-M-L-XL
CHICA: S-M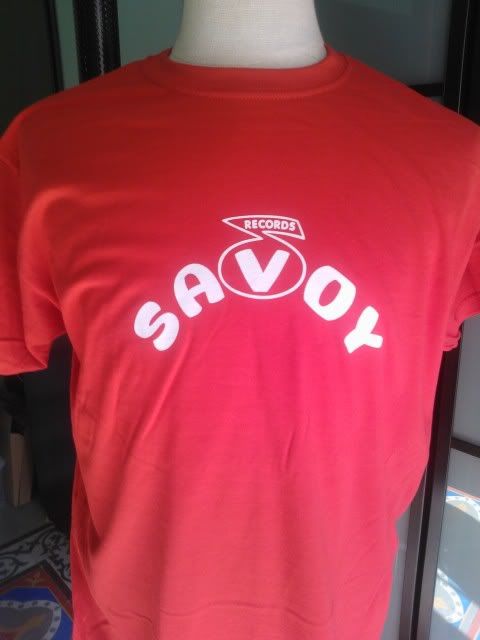 AVAILABLE IN SMALL - MEDIUM - LARGE AND XL MEN SIZES

GIRLS : S-M SIZES

Ready to wear this summer this incredible SAVOY LABEL T-Shirt?? Pay tribute to one of the greatest devoted labels to R&B, black Rock and Roll, even Jazz, where recorded monster tracks artists like: Big Maybelle, Nappy Brown, Joe Turner, Dizzy Gillespie, Art Tatum or Charlie Parker.
COMBINE ITEMS AND SAVE SHIPPING
Check out Hep Stylo Store for yourfavorite 50s and 60s music: rockabilly, rock and roll, rhythm and blues, earlysoul, instrumentals, garage, mod, popcorn, tittyshakers, exotica and muchmore!!!!
| | | | |
| --- | --- | --- | --- |
| 45s | España | Europe | ROW |
| 1 - 5 | 2,50 Eur | 6,5 Eur | 9,5 Eur |
| 6 - 10 | 5 Eur | 12,5 Eur | 20,5 Eur |
| 11 - 20 | 6 Eur | 20 Eur | 36 Eur |
| Lps | | | |
| 1 - 2 | 2,50 Eur | 6,5 Eur | 9,5 Eur |
| 1 - 3 | 5 Eur | 12,5 Eur | 20,5 Eur |
| 4 - 7 | 6 Eur | 20 Eur | 36 Eur |