CAMISETA - T-SHIRT TNT RECORD LABEL SAN ANTONIO, TEXAS – TALLAS/SIZES S-M-XL
Comentarios del cliente
DISPONIBLES LAS CAMISETAS DE TNT RECORD LABEL SAN ANTONIO, TEXAS

LUCE ESTE AÑO ESTA CAMISETA EXCLUSIVA DEL FANTÁSTICO SELLO TEJANO TNT, donde grabaron temazos gente como Bill Morrison, Ray Campi, Jimmy Dee, Jerry Dove, Dottie Jones, o los Traits.

Tallas disponibles:
CHICO: S-M-XL
CHICA: S-M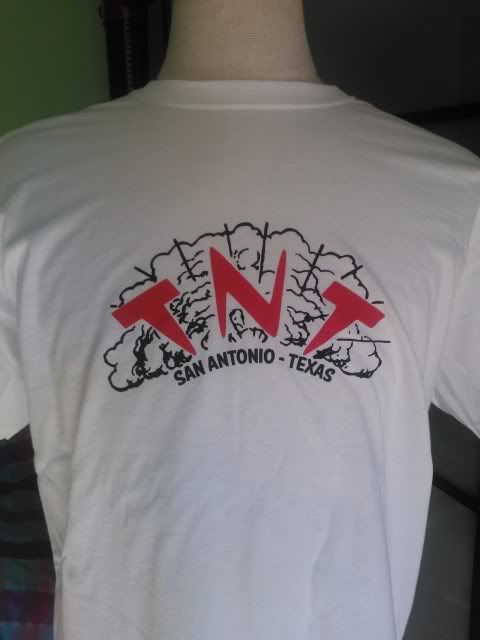 AVAILABLE IN SMALL - MEDIUM - AND XL MEN SIZES
GIRLS : M SIZE
Ready to wear this summer this incredible TNT T-Shirt?? Pay tribute to one of the greatest rare labels from Texas, where recorded monster tracks artists like: Bill Morrison, Ray Campi, Jimmy Dee, Jerry Dove, Dottie Jones, or the Traits.
COMBINE ITEMS AND SAVE SHIPPING
Check out Hep Stylo Store for yourfavorite 50s and 60s music: rockabilly, rock and roll, rhythm and blues, earlysoul, instrumentals, garage, mod, popcorn, tittyshakers, exotica and muchmore!!!!
| | | | |
| --- | --- | --- | --- |
| 45s | España | Europe | ROW |
| 1 - 5 | 2,50 Eur | 6,5 Eur | 9,5 Eur |
| 6 - 10 | 5 Eur | 12,5 Eur | 20,5 Eur |
| 11 - 20 | 6 Eur | 20 Eur | 36 Eur |
| Lps | | | |
| 1 - 2 | 2,50 Eur | 6,5 Eur | 9,5 Eur |
| 1 - 3 | 5 Eur | 12,5 Eur | 20,5 Eur |
| 4 - 7 | 6 Eur | 20 Eur | 36 Eur |