CD✦SMILEY LEWIS✦ "Down Yonder With" End 40s & Early 50s Jumpin' and Swingin' R&B
Comentarios del cliente
SMILEY LEWIS
"Down Yonder with"
01.- BIG MAMOU
02.- PLAYGIRL
03.- DOWN THE ROAD
04.- CAN'T STOP LOVIN' YOU
05.- OH LA LA
06.- MAMA DON'T LIKE
07.- SHAME SHAME SHAME
08.- YOU ARE MY SHUNSHINE
09.- GO ON FOOL
10.- GOIN' TO JUMP AND SHOUT
11.- SHIEK OF ARABY
12.- BAD LUCK BLUES
13.- SCHOOL DAYS ARE BACK AGAIN
14.- LIL' LIZA JANE
15.- OH RED!
16.- BEE'S BOOGIE
17.- LILLIE MAE
18.- AIN'T GONNA DO IT
19.- JAILBIRD
20.- REAL GONE LOVER
21.- BUMPITY BUMP
22.- QUEEN OF HEARTS
23.- SHE'S GOT ME HOOK LINE AND SINKER
24.- ROOTIN' AND TOOTIN'
25.- DOWN YONDER WE GO BALLIN'
Formato: CD Album
Label: KINGS OF RHYTHM - KRCD 333
Released: 1995
NUEVO / UNPLAYED STOCK COPY
Smiley Lewis made several fabulous singles, had a booming, terrific voice, and received the same great backing and support that defined the city's R&B sound. But Lewis' records seldom made it outside New Orleans, even though they were frequently brilliant. This great 24-track anthology contains the four that did make it to the charts, among them the signature song "I Hear You Knocking." It shows Lewis doing first-rate novelty tracks, ballads, weepers, up-tempo wailers, and blues, and making wonderful recordings. The set also includes a thorough discography and good notes, and is superbly mastered. It's magnificent, exuberant R&B, and deserved a much better national fate than it enjoyed. So here we got a 25 track CD , full of end 40's -early 50's en recordings , great stuff and be ready to hear this great rockin, jumpin and swingin' R&B artist!!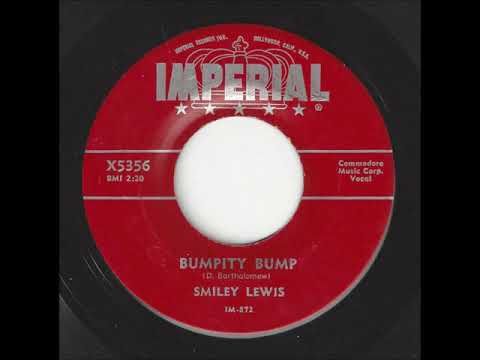 Smiley Lewis - Bumpity Bump
Video will open in a new window
Using the eBay App? Paste link into a browser window: