DOLLAR BILL - SHE'S GOT IT - SUPERB ROCKIN' BLUES - ONE MAN BAND POSTER INC 10"
Comentarios del cliente
DOLLAR BILL AND HIS ONE MAN BAND - SHE'S GOT IT
ROLLIN RECORDS - RRLP 001
Fantástico 10" de Dollar Bill un one-man band que toca guitarra, bombo, hi-hat, harmónica y canta como un blues man del profundo Sur norteamericano.
Un disco imprescindible en tu colección!
Atención viene en vinilo VERDE!!
El disco incluye un poster de Dollar Bill.
Al comprar espera nuestro email,calcularemos los mejores gastos de envío para tí, gracias.
Combina artículos y ahorra gastos de envío!!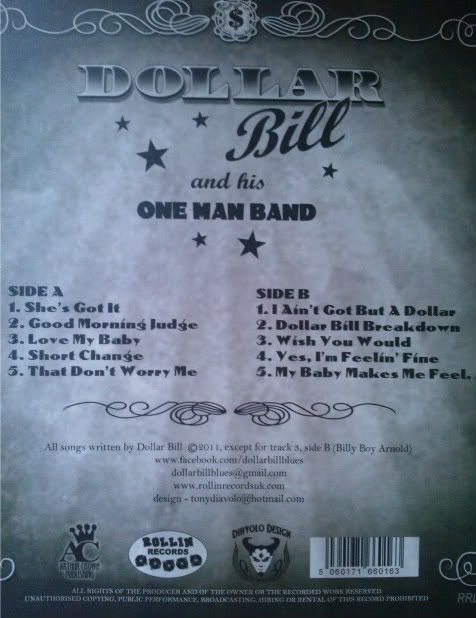 Fantastic 10" by one man band Dollar Bill. He plays guitar, hi-hat, harmonica and sings as a bluesman from the Deep South.
This record is a must for any collection!
Comes in GREEN vinyl!!
A Dollar Bill poster included with the record!
After your purchase, please wait for our invoice, we'll calculate the best shipping charges for you. Thank You!
Combine items and save shipping!!
Listen to Dollar Bill live:
http://www.youtube.com/watch?v=vnQ3_OJ0a4w