LP+CD ✦ ROCKA ROLLA ✦ A Combativ Compilation Of 1950s Taboos And Trangressions ♫
Comentarios del cliente
✧ROCKA ROLLA✧
Formato: Lp 12" + CD
Label: Jukebox Music Factory
Released: 2020
They Come Sealed
NUEVO / UNPLAYED STOCK COPY
TRACK LIST:
A1.- BULLDOG - King Coleman
A2.- THE BREEZE - Fenton & The Castle Rockers
A3.- TAHITI - Jimmy & Stan
A4.- RIOT IN CELL BLOCK No 9 - Ron & Joe & The Crew
A5.- GAMBLIN' MAN - Jules Blattner & His Teen Tones
A6.- ROCK-A-CHICKA - Warner Mack
A7.- GRITS'N GREASE - Quintet Plus
A8.- BLUE BOOZE - The Sentinals
B1.- FOGGY - Jimmy Van Eaton
B2.- NOTHING ELSE TO LOSE - Clyde McCullough
B3.- FOX - The Mystic
B4.- HOW COULD YOU LOSE YOUR TRUST IN ME - Jerry Jaye
B5.- ROLLIN' AND TUMBLIN' - Elmore James
B6.- THE BEAT - The Rockin' R's
B7.- NERVOUS - Gene Summers
B8.- HOT WIRE - The Crew
Never before has El Vidocq so devilishly delved into the musical world of 1950s bad boys. 'Rocka Rolla' is a combative compilation of taboos and transgressions, evoking sex and violence, drugs and alcohol, all fueling a fiery thirst for rebellion. Frightened by The Wild One, music industry squares tried to hit back with reassuring melodies like 'I'm Not A Juvenile Delinquent' (Frankie Lymon and the Teenagers) - but all too little, too late, for the rock'n'roll rot had set in and society would never again be the same.

From King Coleman's barking 'Bulldog' to The Crew's explosive 'Hot Wire', this selection snakes amongst tormented souls (Gene Summer's 'Nervous'), frayed nerves ('The Freeze' by Fenton & The Castle Rockers) and utter despair (Cecil McCullough's 'Nothing Else To Loose'). Finally, the crepuscular 'Rollin' And Tumblin'' by Elmore James announces the night, but dancing not's dead, as evidenced by Warner Mac's mad 'Roc-A-Chicka'. ! Undoubtedly the darkest Jukebox Music Factory to date.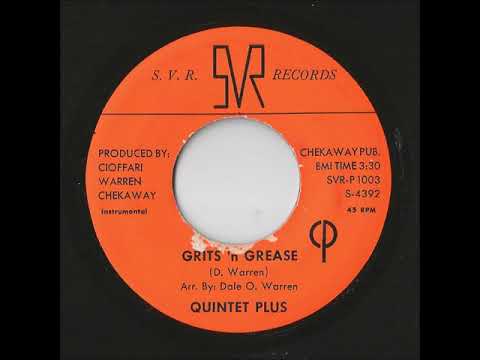 Quintet Plus - Grits 'N Grease (SVR) - YouTube
Video will open in a new window
Using the eBay App? Paste link into a browser window: