LP+CD ✦ VOICES SUPER SOUND ✦ 1955-1963 The Very Essence Of Music ♫
Comentarios del cliente
✧VOICES SUPER SOUND✧
TRACK LIST:
A1.- ESQUERITA & THE VOOLA - Esquerita
A2.- MY TESTAMENT - Big Brown & The Ramblers
A3.- LAZY MULE - Jimmy Ricks
A4.- BOO HOO - Marvin Rainwater
A5.- BILA - The Versatones
A6.- AIN'T GOT NO HOME - Clarence "Frogman" Henry
A7.- JIBA JAB - Tic & Toc
A8.- WHAT CAN I DO - Donnie Elbert
B1.- HEARTBREAK BOULEVARD - Sheldon Allman
B2.- HAVE A LOVE WILL TRAVEL - The Sharps
B3.- LET'S JUMP THE BROOMSTICK - Brenda Lee
B4.- YOU YOU YOU - Hannah Dean
B5.- RED RIDIN' HOOD & THE WOLF - Bunker Hill
B6.- RIGHT NOW - Pearl Woods
B7.- THE SIGNIFYING MONKEY - Smokey Joe
B8.- "UH!" "OH!"- The Nutty Squirrels
Formato: Lp 12" + CD
Label: Jukebox Music Factory - VID11
Released: 2018
They Come Sealed
NUEVO / UNPLAYED
Following the success of his thematic 'O-Rama' compilations, the indefatigable El Vidocq turns his attention to 'Super Sounds'. This series focuses on the very essence of music, on its structure and workings and various vital elements. And what could be more natural than to start the series off with voices and singing? This selection explores the rich period stretching from 1955 to 1963, sampling rhythm'n'blues, doo-wop and rockabilly.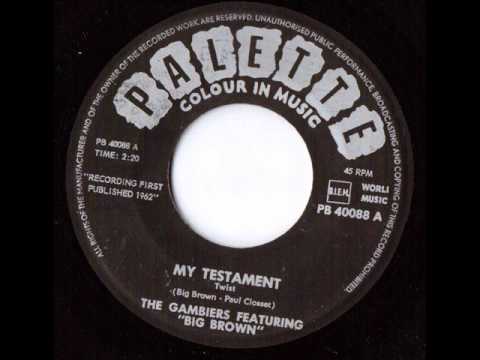 Big Brown & The Gamblers - My Testament - YouTube
Video will open in a new window
Using the eBay App? Paste link into a browser window: