LP+CD ✦SHAKE-O-RAMA Vol.4✦ 16 Pleasure For Dancefloor Boogie Bugs By El Vidocq ♫
Comentarios del cliente
✧SHAKE-O-RAMA Vol.4✧
Formato: Lp 12" + CD
Label: Jukebox Music Factory - VID24
Released: 2021
They Come Sealed
NUEVO / UNPLAYED STOCK COPY
TRACK LIST:
A1.- CAN SHE GIVE YOU FEVER - Stan Robinson
A2.- HERE HE COMES, THERE THEY GO - Chris Kevin & The Comics
A3.- IT'S STOMPIN' TIME (part 1) - Don Julian & The Meadowlarks
A4.- WHEN THINGS GET A LITTLE BETTER - Oscar Boyd
A5.- I DON'T WANT NO MAMA'S BOY - Erma Franklin
A6.- SHTIGGY BOOM - The Nuggets
A7.- GONNA FIND A LOVE THAT'S TRUE - Jackie Gerard
A8.- SHE'S MY LITTLE BABY - Bobby Mack
B1.- ALL THAT'S GOOD (part 1) - Pervis Herder & The Combo Kings
B2.- THE BIG PUSH - Carl Green
B3.- CLOCK MAMBO - Esther Sutherland
B4.- OYE - Miguel Cordoba
B5.- STING-RAY - Mack Johnson
B6.- LULA-BELL - Young Jessie
B7.- HICCUPS - Roddy Jackson
B8.- FUGITIVE - The Fugitives
2016 saw the birth of the very first Shake-O-Rama, the first of a long series. Indeed, over twenty volumes of this fascinating musical adventure have already been released, assembling the very best of El Vidocq's vintage 45-rpm singles under such ageless themes as the beach, the strip-tease, exoticism, monsters, dance.Fortunately, the recent lockdowns have failed to dampen the enthusiasm of our favorite Gascon selector. Quite the contrary! These past few months have allowed him to unearth a load of new nuggets and finally refire his engines with this Shake-O-Rama número quatro!The new series' design has been entrusted to the German jack-of-all-trades Marcel Bontempi, as talented musically (his group is cracking) as he is graphically (a fantastic illustrator). He's duly imagined a fun, flamboyant and eminently fifties atmosphere to accompany these rediscovered tunes. Free of any lulls or repetitions, this latest compilation is to be savored, with the mixed musical styles forming a seamless, irresistible stream.Dance rhythm 'n' blues with Don Julian, Young Jessie and Oscar Boyd, soul with Erma Franklin (Aretha's sister), rock 'n' roll with Chris Kevin, doo wop with The Nuggets, rockabilly with Roddy Jackson, surf with The Fugitives... and even yé-yé latino with Miguel Cordoba!! An exciting, thrilling, goose-bumping cascade, a veritable Colorado River of rapid melodies to relish again and again!!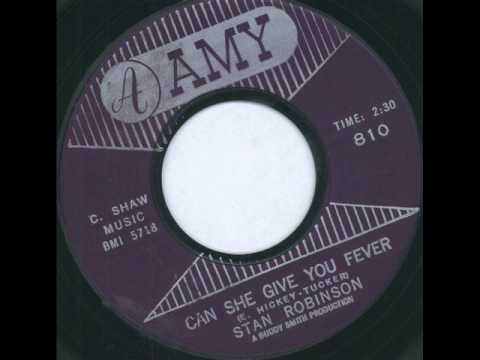 Stan Robinson - Can She Give You Fever
Video will open in a new window
Using the eBay App? Paste link into a browser window: