LP+CD✦MONSTER-O-RAMA Vol.1✦ Monstrous Playlist From The 50s & 60s By El Vidocq♫
Comentarios del cliente
✧MONSTER-O-RAMA Vol.1✧
Formato: Lp 12" + CD
Label: Jukebox Music Factory - VID07
Released: 2017
They Come Sealed
NUEVO / UNPLAYED STOCK COPY
TRACK LIST:
A1.- CHA CHA WITH THE ZOMBIES - The Upperclassmen
A2.- DRAGON WALK - The Noblemen
A3.- THE HORROR SHOW - Sharkey Todd And The Monsters
A4.- THE LIVING DEAD - Jim Burgett
A5.- THE NIGHTMARE! - The Nightmares
A6.- MONSTER HOLIDAY - Lon Chaney
A7.- HAUNTED LOVER - Jackie Jocko
A8.- ZOMBI - The Salmas Brothers
B1.- WEREWOLF - The Frantics
B2.- DRACULA CHA CHA - Orchestra Bruno Martino
B3.- OLD BORIS - Bela La Goldstein
B4.- DINNER WITH DRAC- John Zacherle
B5.- PSYCHO SERENADE - Big Jay McNeely
B6.- THE MONSTER - Bobby Please
B7.- CLUMSY DRAGON - The Five Sounds
B8.- THE HO-HO LAUGHING MONSTER - The Cliff Dwellers
El Vidocq has concocted a monstrous playlist from the 1950s and '60s, since these were frightingly creative decades for both cinema and music. Indeed, both worlds were intertwined, as melodiously illustrated here by f.i Lon Chaney (The Unknown) with his 'Monster Holidays'. No style lags behind, from the surfrock of the Noblemen to the cha cha cha of Bruno Martino, and from the rockabilly of Jim Burgett to the big band jazz of Jackie Jocko. Get ready to rock and rumble wth Frankenstein, Dracula and a hungry horde of Zombies. Wha ha ha ha!!!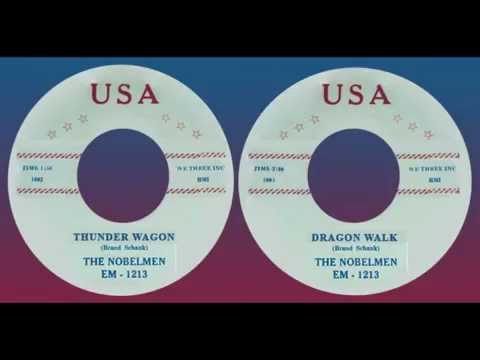 NOBLEMEN - Thunder Wagon & Dragon Walk (1959) Top 5 in Wisc. - YouTube
Video will open in a new window
Using the eBay App? Paste link into a browser window: