VA. OBSCURITIES VOL 3 10"-SHEL NAYLOR LITTLE WALTER-KILLER RARE ROCKERS 50s/60s
Comentarios del cliente
V/A. OBSCURITIES VOL 3 - 12 HOT ROCKERS FROM THE 50s AND 60s
ROCKERS TRIP 103
Tremendo recopilatorio de temas raros de finales de los 50s y principios de los 60s . Este 10" debe tener un hueco en tu colección.
Para los coleccionistas de vinilo, pocas unidades prensadas, compra tu ejemplar antes de que sea demasiado tarde.
Al comprar espera nuestro email,calcularemos los mejores gastos de envío para tí, gracias.
Combina artículos y ahorra gastos de envío!!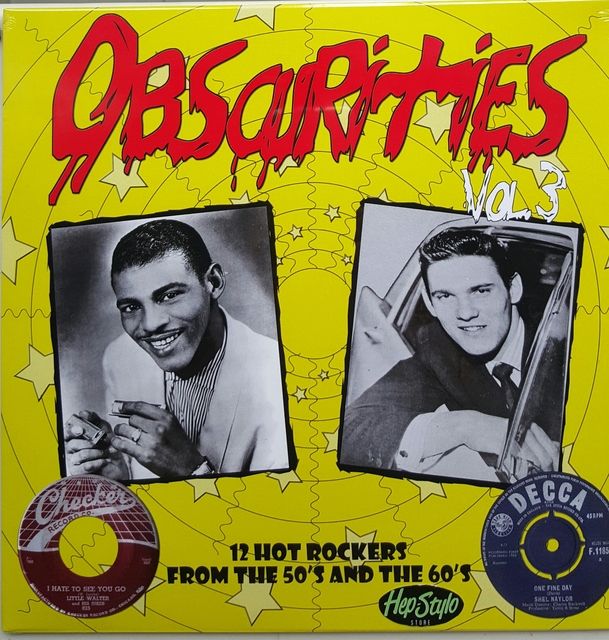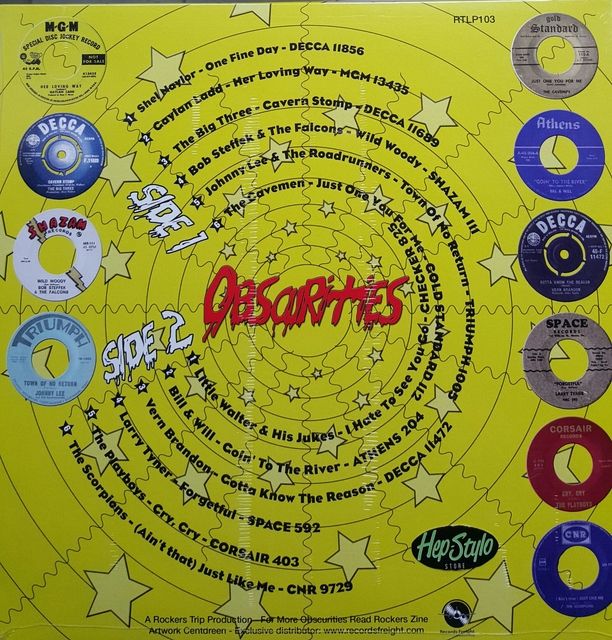 "Obscurities Vol.3
( 12 Hot Rockers From the 50's and 60's)
(Rockers Trip) 10"
(Import)
Side One
SHEL NAYLOR - ONE FINE DAY - DECCA 11856
CAYLAN LADD - HER LOVING WAY - MGM 13435
THE BIG THREE - CAVERN STOMP - DECCA 11689
BOB STEFFEK & THE FALCONS - WILD WOODY - SHAZAM 111
JOHNNY LEE & THE ROADRUNNERS - TOWN OF NO RETURN - TRIUMPH 1005
THE CAVEMEN - JUST ONE YOU FOR ME - GOLD STANDARD 112
...
Side Two
LITTLE WALTER & HIS JUKES - I HATE TO SEE YOU GO - CHECKER 825
BILL & WILL - GOIN' TO THE RIVER - ATHENS 204
VERN BRANDON - GOTTA KNOW THE REASON - DECCA 11472
LARRY TYNER - FORGETFUL - SPACE 592
THE PLAYBOYS - CRY, CRY - CORSAIR 403
THE SCORPIONS - (AIN'T THAT) JUST LIKE ME - CNR 9729
Terrific compilation, combining rare and more known stuff from the late 50s and early 60s this record deserves room in your collection.
For vinyl collectors, just some hundred records pressed, be quick!!
After your purchase, please wait for our invoice, we'll calculate the best shipping charges for you. Thank You!
Combine items and save shipping!!
| | | | |
| --- | --- | --- | --- |
| 45s | España | Europe | ROW |
| 1 - 5 | 2,50 Eur | 6,7 Eur | 9,9 Eur |
| 6 - 10 | 5 Eur | 12,5 Eur | 20,5 Eur |
| 11 - 20 | 6 Eur | 20,50 Eur | 36 Eur |
| Lps | | | |
| 1 | 2,50 Eur | 6,7 Eur | 9,9 Eur |
| 2 - 3 | 5 Eur | 12,5 Eur | 20,5 Eur |
| 4 - 7 | 6 Eur | 20,50 Eur | 36 Eur |