VA. R&B HIPSHAKERS Vol.1 -2xLP- TEACH ME TO MONKEY- Mr FINE WINE COMP KING LABEL
Comentarios del cliente
R&B HIPSHAKERS VOL 1 - TEACH ME TO MONKEY

VAMPI SOUL

No pierdas la ocasión de añadir a tu colección este increíble doble LP.

Recopila temas grabados para los sellos King. Una magnífica selección a cargo de Mr Fine Wine, junto a una lujosa presentación y sonido hacen este artículo imprescindible en una buena colección.

Al comprar espera nuestro email,calcularemos los mejores gastos de envío para tí, gracias.

Combina artículos y ahorra gastos de envío!!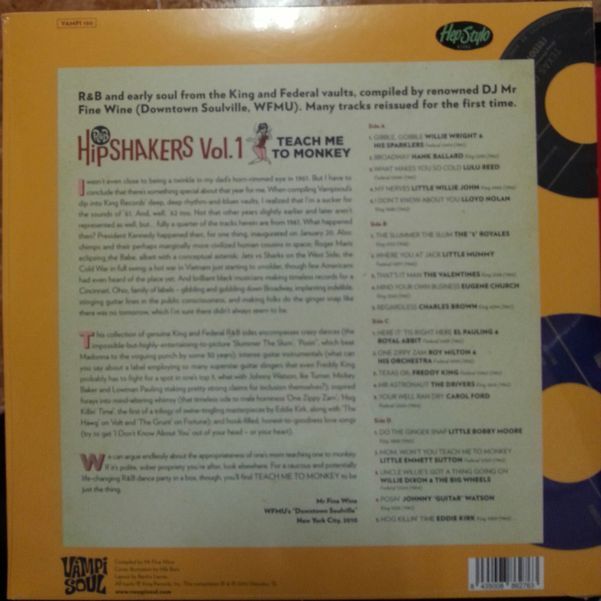 Don't miss this fantastic double LP!
Tracks compiled by Mr Fine Wine, 20 tracks from the King vaults.
After your purchase, please wait for our invoice, we'll calculate the best shipping charges for you. Thank You!
Combine items and save shipping!!
| | | | |
| --- | --- | --- | --- |
| 45s | España | Europe | ROW |
| 1 - 5 | 2,50 Eur | 6,5 Eur | 9,5 Eur |
| 6 - 10 | 5 Eur | 12,5 Eur | 20,5 Eur |
| 11 - 20 | 6 Eur | 20 Eur | 36 Eur |
| Lps | | | |
| 1 - 2 | 2,50 Eur | 6,5 Eur | 9,5 Eur |
| 1 - 3 | 5 Eur | 12,5 Eur | 20,5 Eur |
| 4 - 7 | 6 Eur | 20 Eur | 36 Eur |